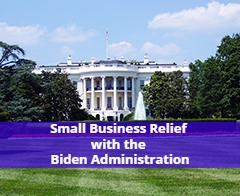 As of December 27th, 2020 the Paycheck Protection Program is back, and Biz2Credit can get your business started with an easy process to help you get funded quickly.
With his speech on January 14, we now have a better idea of how this administration plans to provide COVID-19 relief to the United States.
We want to outline the three legislative plans we've been following these last few months:
The Heroes Act
Joe Biden's Campaign Proposals
The American Rescue Plan
We're focusing on small business relief plans right now although there is a lot more planned with pandemic relief and recovery. This is an ambitious legislative plan, but lawmakers are hopeful it can pass Congress.
The Heroes Act
On May 12, House Democrats introduced The Heroes Act. Following the CARES Act and interim coronavirus relief packages, this was an ambitious $3 trillion relief package. Introduced by Appropriations Committee Chairwoman Nita M. Lowey (D-NY)
It laid out 12 proposals:
Nearly $1 trillion to state, local, territorial, and tribal governments

The funds would pay vital workers: first responders, health workers, and teachers
The funding would allow the governments to keep employees

Establish a $200 billion Heroes' Fund for essential workers
Ensure that workers receive hazard pay
$75 billionfor coronavirus testing, contract tracing, and isolation

Provide every American with free coronavirus treatment
Support hospitals and providers

$1,200 direct paymentsper family member

Second round of economic impact payments
Would provide up to $6,000 per household

Allows 60 million Americansto remain connected to paychecks and benefits

Enhanced the employee retention tax credit
Encouraged employers to keep employees on the payroll

Requires strong, enforceable standards for worker safety

Work with CDC on infection control plans
Prevents employer retaliation

Support small businesses and non-profits

Strengthens Paycheck Protection Program
Provides $10 billion in COVID-19 emergency through the Economic Injury Disaster Loan program
Focuses on underserved communities, nonprofits of all sizes and types

Preserves health coverage

Uses COBRA subsidies and the Affordable Care Act

Weekly $600 unemployment benefits
$175 billion for housing assistance

Assists renters and homeowners with monthly payments

15 percent increaseto SNAP benefits

Addresses rising hunger and food security issues
Additional funding for nutrition programs

Resources to safeguard American democracy

Ensure safe elections, accurate Census, and preserve Postal Service
The Heroes Act passed the House on May 12 but Senate, Majority Leader Mitch McConnell (R-KY) called it a "liberal wish list." The package stayed in the Republican-controlled Senate for months without a vote. Meanwhile, House Speaker Nancy Pelosi (D-CA) worked with Treasury Secretary Steven Mnuchin to craft a new package in December that became the Economic Aid to Hard-Hit Small Businesses, Nonprofits and Venues Act.
Now with the Trump administration coming to a close, President-elect Biden's proposals and plans are taking center stage in the Capitol.
Joe Biden's Small Business Proposals During the Campaign
Back in August, Joe Biden's campaign released proposals to "set up support for deserving small businesses." At that time, we did not know the outcome of the November elections and everything was hypothetical. However, it does provide a good way to see President-elect Biden's priorities for small businesses and what he plans to do with the American Rescue Plan and beyond.
There were five main parts to his plan:
A fund reserved for small businesses with 50 employees or less

Focus on the "mom-and-pop shops — beauty salons, barbershops, diners, local auto body shops"
Focus on minority business owners
Allow small non-profits – including churches, mosques, and synagogues – to be eligible

Expedite loans to hard-hit businesses

Loans would be for lost revenue only
No businesses with owners making above $500,000 would be eligible

No limit on the Paycheck Protection Program fund

Guarantees that "every qualifying small business will get relief"
Eliminates competition between small firms for funding

More generous loan authorization

Would cover the costs of keeping workers on the payroll and fixed costs to keep business open
Ensures that businesses can open after the pandemic

Audit mechanism for the PPP

Review net business income to find any businesses abusing the program
All of these proposals were made during the campaign – and some of them were directed at the Trump administration to implement immediately. However, from this, we can see that President Biden will be focused on small businesses and minority-owned small businesses. Although we have seen some of these changes in the most recent round of PPP, it appears that the Biden administration will look to expand beyond the PPP and provide additional targeted relief.
The American Rescue Plan
At the beginning of January, both the Washington Post and Bloomberg were reporting a "multitrillion-dollar relief package." This came after the Bureau of Labor Statistics reported 140,000 job losses in December. Many people and businesses are struggling.
In a speech on January 14, Biden unveiled the $1.9 trillion American Rescue Plan. There are four main pieces to the plan:
Mount a National Vaccination Program, Contain COVID-19, and Safely Reopen Schools
Deliver Immediate, Direct Relief to Families Bearing the Brunt of the Crisis
Provide Critical Support to Struggling Communities.
Modernize Federal Information Technology to Protect Against Future Cyber Attacks
As Bloomberg noted in early January, elements of Biden's package planned to draw on the Heroes Act that passed the House in May. The American Rescue Plan does have a lot of similarities but costs $1 trillion less.
We wanted to focus on what's in it for small businesses. Biden noted that small businesses account for nearly half of the U.S. workforce but have suffered revenue losses of 32 percent. His plan focuses on three specific actions taken with Congress:
Grants to more than "1 million of the hardest hit small businesses"

$15 billion in flexible grants
Distributed equitably to small businesses

"$175 billion in additional small business lending and investment"

Invest $35 billion in "successful state, local, tribal, and non-profit small business financing programs"
Congress will generate $175 billion in "low-interest loans and venture capital" for entrepreneurs

Help for restaurants, bars, and other businesses

Work with Congress to bridge recovery for particularly hard-hit businesses
Leverage the Community Credit Corporation at the U.S. Department of Agriculture (USDA)
The President-elect has pledged support to small businesses – with a "focus on minority-owned small businesses and women-owned small businesses." CNN notes that the plan would also create a new $15 billion grant program that is separate from the Paycheck Protection Program.
There is also a focus on individuals along with businesses and local governments here. A lot of people are unemployed or trying to make ends meet. Biden's plan will aim to help workers by:
Extending unemployment insurance
Increasing unemployment aid
Providing emergency paid leave to 106 million more American workers
Ensuring protection from COVID-19
Raising the federal minimum wage to $15 per hour
Providing hazard pay for essential workers
Protecting the jobs of the first responders, transit workers, and other essential workers
This is one of the biggest and most comprehensive coronavirus relief packages that we've seen since the pandemic began. With a Democratic-controlled Congress and Executive branch, there is a good chance it will be signed into law during President Biden's first days in office.
What Else is in the Plan?
The Biden administration plan is focusing on relief for individuals, businesses, and local governments from the federal government. In the package, there is $400 billion directly for the pandemic response and another $350 for state and local governments in addition to direct individual stimulus checks. The $1.9 trillion package is broad with a focus on economic recovery and pandemic response. Although Republicans on Capitol Hill have been wary of a large stimulus, Biden believes he can make it work. "Unity is not a pie-in-the-sky dream, it is a practical step to getting things done," President-elect Biden said.
Some of the major parts of the coronavirus response and relief package include:
$1,400 stimulus checks to individuals,
Tax credits to individuals and businesses,
Rental assistance and an extension of the federal eviction moratorium
$130 billion for schools to safely reopen
Increasing food stamp benefits
$40 billion for family and child care costs
Increasing the Child Tax Credit
$20 billion for a national vaccination program
Hiring 100,000 public health workers
Many taxpayers have been asking Congress for more relief and with Senate Minority Leader Chuck Schumer (D-NY) set to control the Senate in a few weeks, it may all be possible. As Biden said in his speech, "The very health of our nation is at stake."
Next Steps
Joe Biden and Kamala Harris will be sworn in as the next President and Vice President of the United States on January 20 and 12 p.m. Georgia's Democratic Senators-elect Raphael Warnock and Jon Ossoff are likely to be sworn in around the same time, making Democratic control of the Senate official. This new legislative power will allow the Biden-Harris administration the opportunity to implement programs with Congress, instead of through executive order, and pass large spending bills. With Biden also naming his picks for Treasury, Commerce, and Labor, along with the Small Business Administration (SBA), the federal agencies will be working to carry out this relief bill.
The administration's focus is on coronavirus relief. With so many people unemployed and small businesses closing, the Biden administration and Congress want to ensure that all Americans have the assistance they need.
Hello Friends My name Is John, I Am Expert Researcher. And News Creator, I Have Lot Of Experience In This field. If You Like My Website News Means Please Subscribe To My Newsletter For Daily Updates, If You Like My Website Means Visit My Site Regularly And Comment.